Selling digital products is one of the best ways to make money in 2023. In the last few years, consumers have been craving content that delivers value and they are willing to pay to consume even more content. Gumroad was one of the most popular platforms for creating an online store for digital products. Recently, content creators have complained about the price increase that Gumroad announced to take place in 2023.
If you've been affected by this decision and looking for an alternative platform, then continue reading this article. We will be sharing our top options for eCommerce platforms that allow you to sell digital products.
Mobilzer
At Mobilzer, we have recently introduced digital products and have been receiving a lot of positive feedback from customers since then. Our goal is to empower content creators around the world to monetize their knowledge. Mobilzer's dashboard is designed to offer a simplistic experience to both creators and customers.
Whether you sell courses, eBooks, or photography, you can create an app with your branding and content and reach thousands of customers. Once a customer completes the purchase, they receive a secured link to download their product. To protect your copyrights, the link is not sharable and can't be used twice.
How Mobilzer works
Once you create an account, you will be able to create an app and upload your products. Mobilzer has a dashboard that makes it easy to set up your online store and add all the features you want. Mobilzer allows you to bulk upload your products and add a description for each product. You can also add unlimited modifiers to help you sell different variants of a single product.
What can you sell with Mobilzer?
You can literally sell anything with Mobilzer from eBooks to digital art, photography, and educational materials.
eBooks
Music
Photography
Courses
Tutorials
Web elements
Video content
Digital art
Writing and publishing
Integrations
To streamline your sales and marketing processes, Mobilzer offers integrations with various payment, marketing, and analytical integrations. You can easily link your app to Stripe, PayPal, Google Analytics, Meta, and Mailchimp.
Marketing tools
To level up your marketing game, Mobilzer offers integrations with Mailchimp so you can send personalized emails to your customer's inbox. There's also a built-in discount coupon feature that you can use to offer discounts on selected products.
Mobilzer pricing
With Mobilzer, you can choose to build progressive web apps or native apps that work on Android and iOS devices. With only $49 per month, you can build a native app to sell your products. If you're looking only for a progressive web app, then you can go with our Premium plan which costs only $19 per month. You can check all the details about our pricing plans from here.
Payhip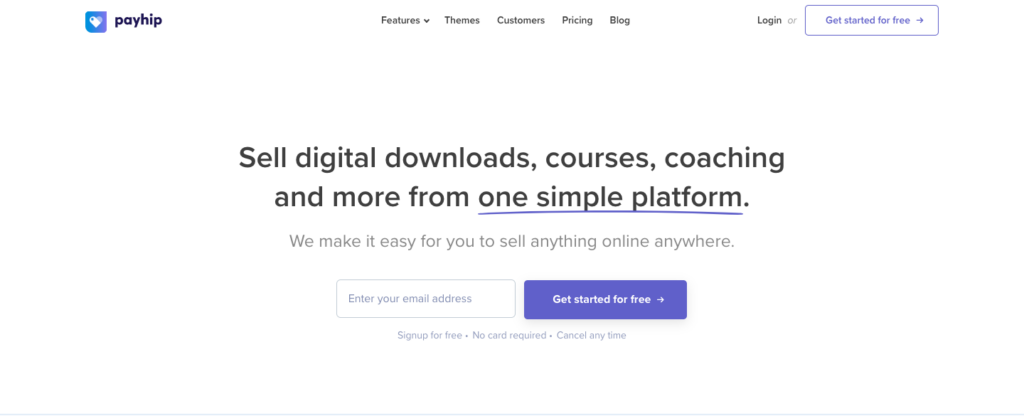 Payhip is one of the good alternatives to Gumroad. You can use it to create a website – or embed it to an existing one – and sell both digital and physical products. You can sell memberships, coaching sessions, and any type of digital downloads.
One of the great features of Payhip is that you can easily sell anywhere in the world without worrying about taxes (VAT). The platform detects the customers' location and calculates the relevant tax (VAT). The pricing is quite affordable as it starts at $29 per month.
Teachable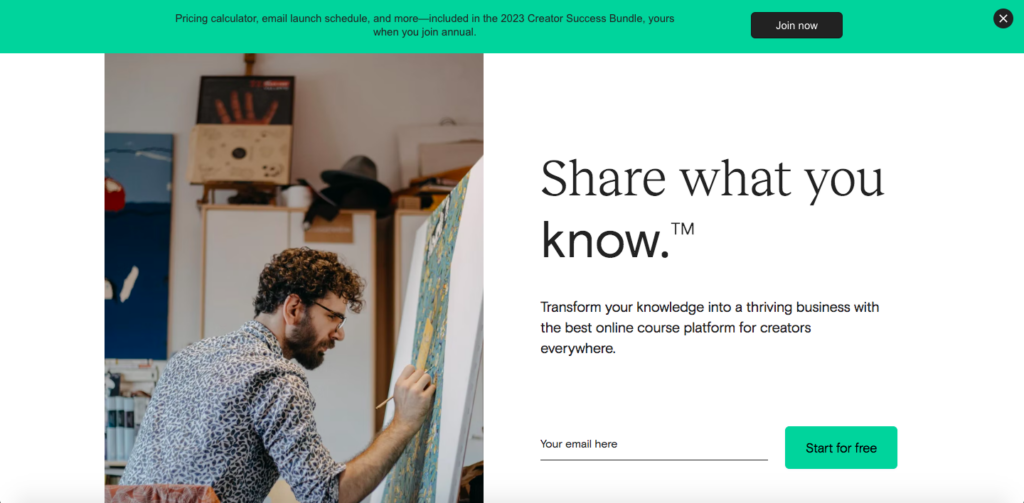 Established to empower content creators to create their online business hub. Teachable offers full eCommerce capabilities to enable you to sell courses and educational materials. You can also bring your hub to the next level with student-side features such as quizzes, comments, certification of completion, and more. To expand your business, you can incentivize your students to refer you to their friends. There are also affiliate marketing tools to help you collaborate with partners to promote your content.
They offer integrations with MailChimp, Zapier, ConvertKit, Google Analytics, Segment, and more.
Thinkific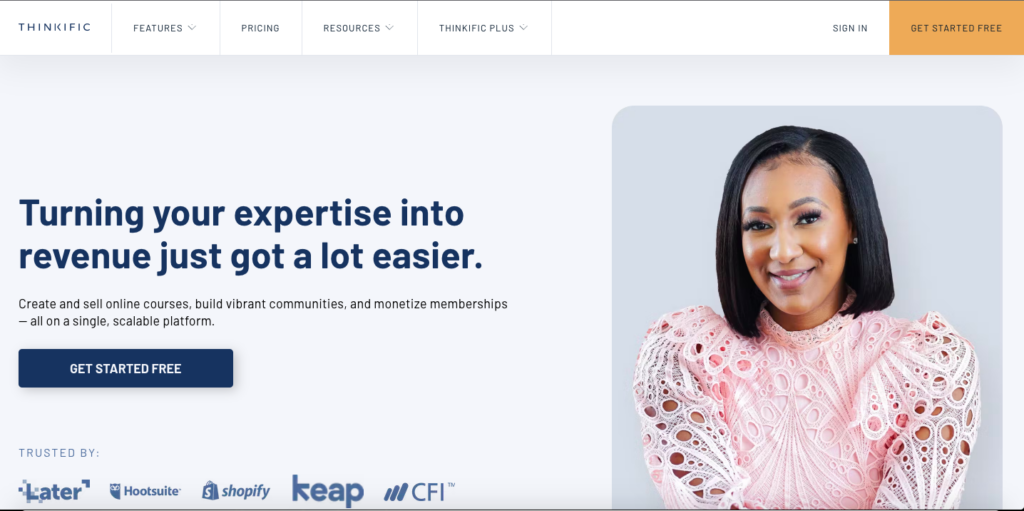 Thinkific is considered one of the best platforms for digital products, particularly online courses. The platform promises its users an extremely flexible dashboard. There are ready web templates that you can generate and customize to your branding. The drag-and-drop course builder allows you to customize your web sections, add course preview sections, and upload curriculum, and key learnings. You can also add multiple instructors and create membership subscriptions.
To market and sell your courses, Thinkific offers integrations with Mailchimp, Stripe, Shopify, and PayPal.
With Thinkific, you can create a sophisticated platform to sell your courses and build a community for your brand. The pricing starts at $99 per month and they offer different pricing plans that you can choose from.
Sellfy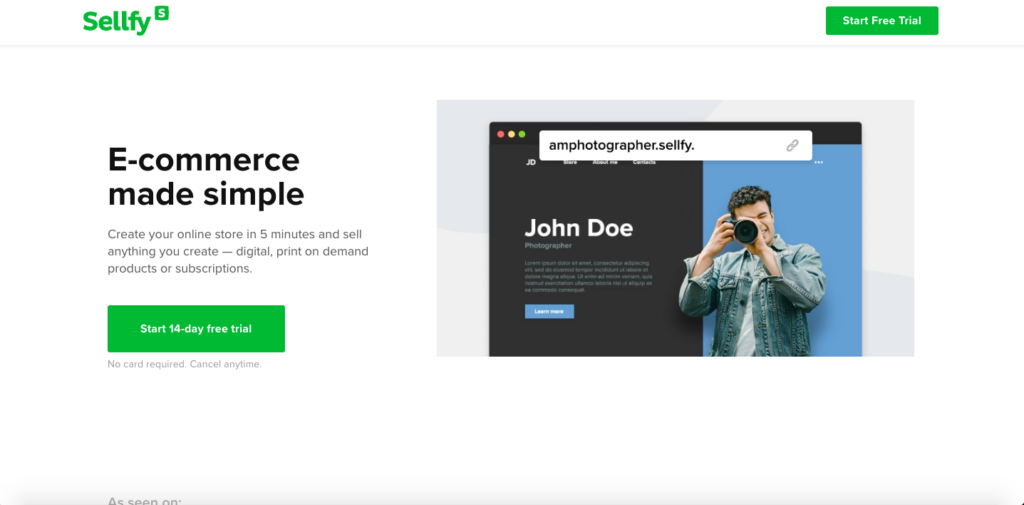 Sellfy is an eCommerce platform that allows you to sell anything you create, digital, print, or on-demand subscriptions. The platform offers full customization as you can add your logo, colors, and language, then connect your Sellfy store to your existing domain.
Similar to Mobilzer, you can sell all types of digital products with Sellfy such as eBooks, audio, video, music, and more. What I really admire about Sellfy is their built-in marketing tools like discount coupons and email marketing which enable you to reach your full marketing potential.
They also offer a 14-day free trial to explore the features with no credit card required. The pricing is also cheaper than most alternatives as it starts at $22 per month (billed annually).
Which Gumroad alternative is right for you?
After we compared the top Gumroad alternatives, now you have a good overview of the best online eCommerce platforms in the market. We believe Mobilzer is the best Gumroad alternative for these specific reasons:
You can sell any type of digital product.
It's cost-efficient if compared to the rest of the platforms in the market.
Mobilzer lets you accept online payment and doesn't charge you transactional fees for your sales.
Mobilzer offers secured links to protect your copyrights and digital assets.
However, if you're looking to build a more sophisticated platform to sell your courses or educational material, then Thinkific would be right for you. You get all the customization options required for an e-learning website.
If you would like to know more about Mobilzer and our digital assets, you can read more from here.
To create an account, head to our YouTube channel for resources and tutorials.