If you're looking for a no-code app builder, then you must have come across Bubble. Bubble is one of the most famous no-code app builders as it offers a unique solution for no-code development. If you are not familiar with no-code platforms, then this article would be helpful. In this blog, we have chosen to compare what both Bubble and Mobilzer offer to the market. Both platforms allow you to create web apps and launch them with a few clicks. Continue reading below as we will answer all your questions about the two platforms. 
Bubble 
Bubble is a no-code web app development platform that allows you to create interactive, multi-user apps for desktop and mobile devices. With a drag-and-drop builder, you can build out the UX logic and determine what happens from the moment users enter your application. Bubble also offers up to 1000 plugins to help you connect to external integrations and enhance the performance of your app. 
After you create an account, Bubble gives you 3 options to choose from: Build, hire or earn. You can either build an app for yourself or hire someone to build an app for you for $200 per month. You can also earn money by building apps for others.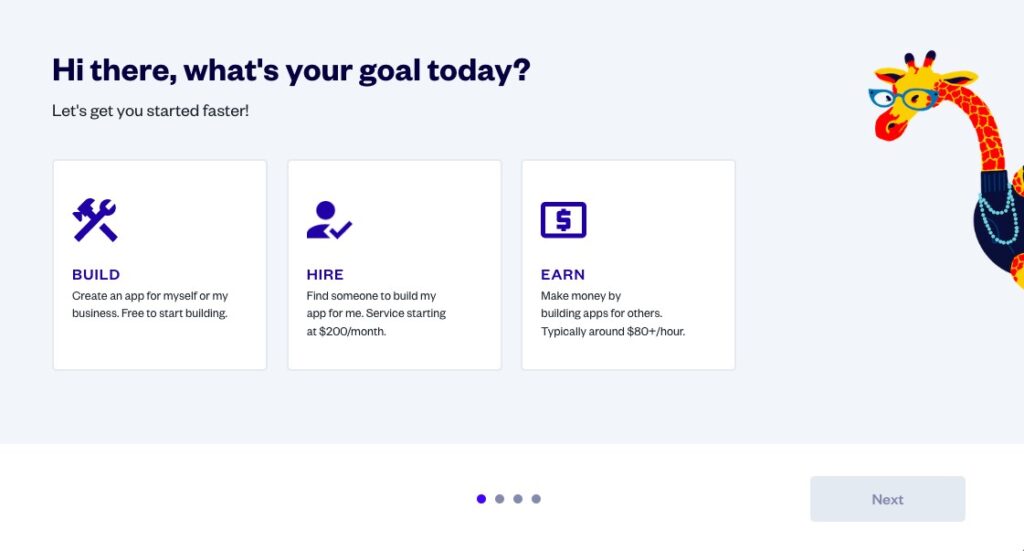 Dashboard
Bubble dashboard is quite advanced with lots of visual elements, containers, and input forms. You can insert all types of content; text boxes, images, videos, or maps. The menu on the left side takes you through the process of building the interface step-by-step and there's a preview button on the top that helps you preview the app during the process. 
With Bubble, you can create a workflow and collaborate in real-time with your team by assigning tasks and roles to each staff member. You can bring up to 40 staff to collaborate on your project which allows you to quickly launch your web or mobile app to the market. 
Perhaps Bubble's most popular plugin is its API connector which helps you connect to other external apps and services. Since there are more than 1000 plugins, they divided them into categories so you can easily navigate through them. For instance, to access the analytics plugin, simply choose analytics from the categories menu and you will see a list of all available plugins.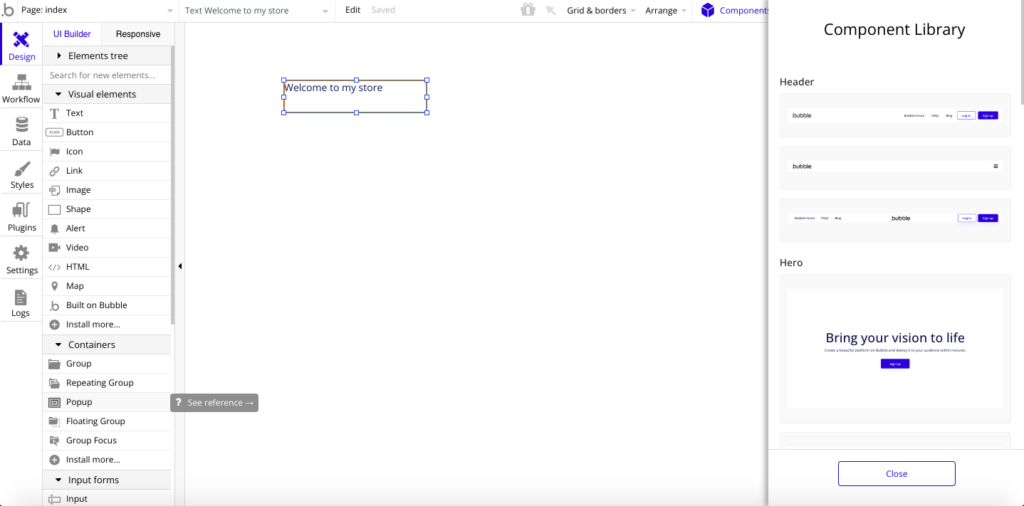 Despite all the great features that Bubble offers, users have complained about the dashboard's complexity as it takes time to figure out how it works. 
Pricing 
Bubble.io has announced a new pricing approach, introducing a metric called "workload units." This metric measures the computational resources required by an app for actions such as workflows, file uploads, page loads, APIs, and data operations. The weight of each action determines the workload units consumed, with more complex actions carrying higher weights. However, specific details about the calculation method and weight ratios have not been disclosed and may change in the future. The workload units are measured based on various factors, including data quantity and size, type of action, and external API calls. This shift to workload units allows Bubble.io to price its platform based on actual usage, offering users more flexibility and control over their costs.
Pros 
A variety of templates can be used for all types of apps

A variety of integrations and plugins 

Lots of video tutorials and guides to help you throughout the process of creating an app. 
Cons 
Complex dashboard 

It's not cheap to build an app with Bubble since the pro plan costs $529 per month. Therefore, it's not the ideal choice for small businesses and entrepreneurs. 
Mobilzer overview 
Mobilzer is a platform that is built to empower small businesses to build their web and mobile apps. Mobiizer includes all essential integration to help you build a fully functional app. 
Design 
When designing an application, Mobilzer lets you choose between a variety of templates and themes. Once you choose a template, you can go to components and start customizing every single detail in your app design as you will see below: 
General style: here you can control the main color of your app and change the font family, size, and color. 

Homepage: This lets you adjust the style of your headline and the size of your navigation bar. You will also be able to decide whether to display the WhatsApp floating button or not from this stage. 

Categories list: If you have multiple categories, you can adjust the font size, background color, and image style of each category. 

Products list: Adjust the price font color and size, product image style, discount price font color, and size 

Product details: Control the product page style and change the font size, colors and titles from here.  

Sub-categories navigation: This is where you can customize the sub-categories style such as font colors, size, and titles.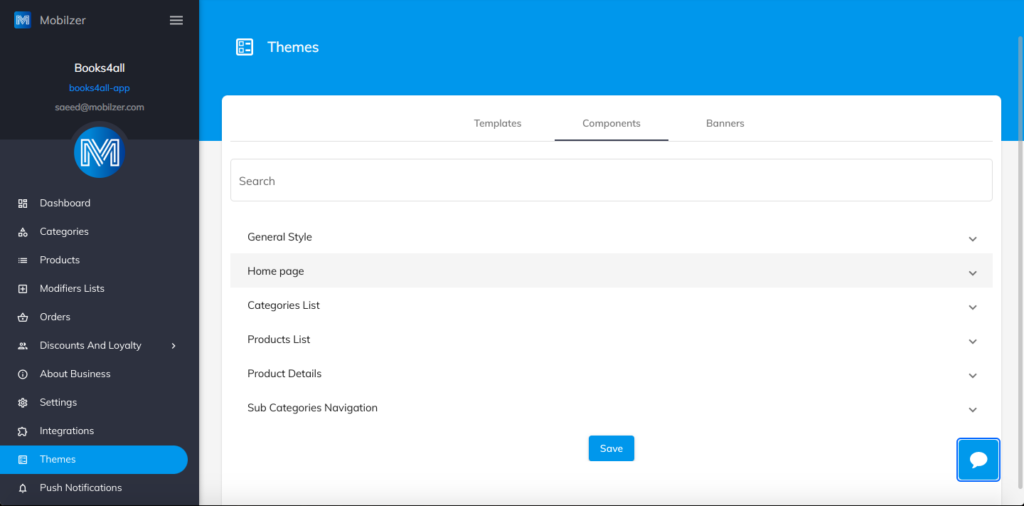 We are always working on enhancing our template design and adding new themes to meet the growing needs of Mobilzer customers. 
Settings 
The language of your app, shipping, and the specifications of your products can be edited from the settings. 
You can set up the currency of your application by choosing from more than 50 currencies available. 

Here you can control all product attributes like technical specifications, materials, and size. 

Product favorite list: You can allow customers to add their favorite products to their "Favourite List" so they can get back to it later. 

Translation: Here you are asked whether to choose a default app language or create a multi-lingual app. Mobilzer is currently available in 6 languages (Arabic, English, Urdu, Spanish, French, and Dutch) 

Shipping: Choose a city or area and assign a fixed shipping fee or enable an in-store pickup option. 

Taxes: Selling a product that includes taxes or VAT? Here you can upload the tax value and assign it to your products. 
Discounts and loyalty 
To nurture and reward your customers you can offer them exclusive discounts and deals. Mobilzer lets you create coupon codes to increase purchasing frequency and customer retention. We've discussed the loyalty program in our previous article, you can read more about it from here. 
Summary 
To conclude, Bubble offers great features that allow you to build a premium SaaS product. It's definitely not for beginners or small businesses. If you're looking to build a simple web app then you can try an alternative such as Mobilzer.