Gone are the days when you had to be an engineer to build a mobile app. If you have a brilliant app idea and want to launch it on the market, you can do so within a few hours. Thanks to no-code app builders, you can create an iOS, Android, or even progressive web app from scratch. These no-code app builders are entirely changing the app development market, giving everyone an opportunity to build and sell mobile applications without coding knowledge. In this blog, we are providing a comparison between Shoutem and Mobilzer. Both use no code technology and provide similar features in their app builders as we will discuss below. 
Shoutem
Shoutem is one of the first mobile app builders in the market. You can use Shoutem to build native apps with the complete freedom to modify or create unlimited functionalities. 
How does it work? 
Users who create an account on Shoutem can choose from pre-built templates and customize it as they want using a drag-and-drop interface. There's a wide range of customization including, colors, fonts, images, and layouts. 
Shoutem provides dozens of integrations and tools to help you manage your app. For example, they provide integrations with Meta, WordPress, and Shopify. They have a 14-day free trial so you can test the app builder for free.
Shoutem pricing 
Shoutem offers 3 pricing plans as explained below: 
Android: $59 per month (paid annually). This package lets you create Android apps only 

Standard: $99 per month (paid annually). Includes all the basic features of Android in addition to iOS app publishing support, notifications, and user management. 

Professional: $189 (paid annually). This package gives you up to 10 GB of space and loyalty, and chat.
When to use Shoutem? 
If you want to create an app in English only

If you want to create iOS and Androids apps only 

If you want to choose between a variety of templates and themes 
What is Mobilzer? 
Mobilzer is a no-code app builder that allows you to build an app without a single line of code. Mobilzer's dashboard is designed with a simple layout that lets you understand exactly how to build an app within a few minutes. There are pre-built templates that you can use to create a modern and sleek appearance for your app. The customization lets you control your app's colors, icons, buttons, fonts, and much more. 
Mobilzer features include: 
Modifiers 

Stripe and PayPal 

Meta integration 

Loyalty program 

Chat via Whatsapp

Custom domain 

In-store pickup 

Integration with Foodics 

Integration with Google Analytics

Clickable banners 

Discount codes

Custom themes
Mobilzer templates 
Mobilzer offers a variety of templates for all businesses with a high level of customization. Here are some examples of our pre-built templates.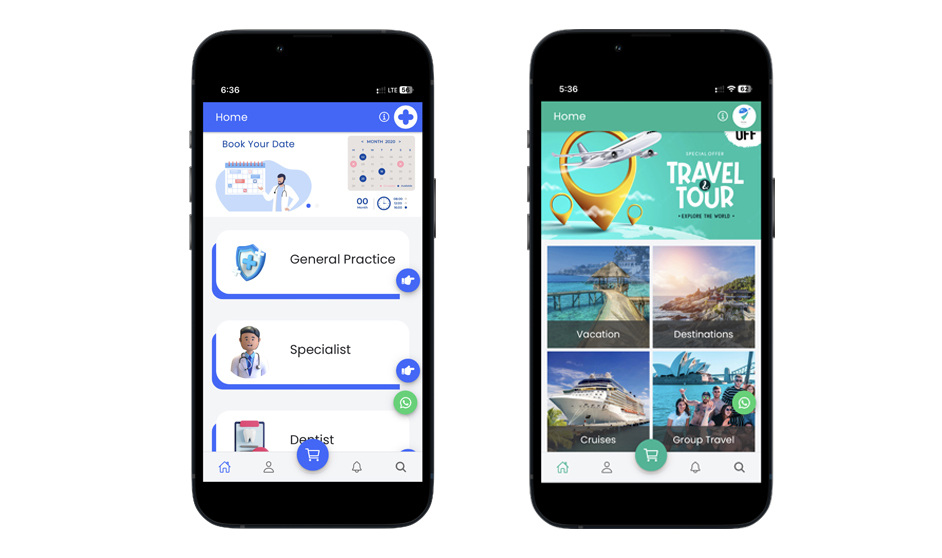 Mobilzer pricing
Standard: The standard package costs $9 per month and it allows you a progressive web app (billed annually) 
Premium: Costs $19 per month and gives you access to interesting features such as discount coupons and Stripe payment integrations (billed annually) 
Pro: Costs $49 and allows you to build PWA, Android and iOS applications. You also get up to 50GB storage (billed annually). 
Agency: This package is created for agencies that want to create no-code applications for their clients. The package costs $179 per month and allows you to create up to 10 applications (billed annually). 
When to use Mobilzer 
If you want to create apps in multi-languages. The platform currently supports 6 languages (English, Arabic, Urdu, French, German, Dutch)  

If you want to create PWA, iOS and Android apps 

If you want a cost-effective app builder 
Key benefits of using Mobilzer
1- A mobile app for all industries 
Hundreds of applications were built on Mobilzer for different industries. Mobilzer's custom themes and dashboard are built to suit all app types. Cosmetics, real estate, and restaurants are among the most popular apps on Mobilzer. 
2- Decreased time to market 
You don't have to compromise on quality for speed to keep up with customers' demands. No-code technology offers great functionalities as with pre-built templates and a dashboard, you are able to publish an app in a few hours. By quickly launching your app to the market, you reduce the project cost and allow to quickly add or modify features to suit the needs of the customers. 
3- Huge accessibility for your mobile app 
Businesses that want to grow fast must provide a mobile experience that is easily accessible to everyone. No-code makes this possible as mobile apps become accessible even without an internet connection, helping businesses reach rural areas where internet connectivity is limited. Progressive web apps can also be accessed via web browsers, Android, and iOS devices. 
Frequently asked questions
How many apps can I create using Mobilzer? 
Our standard, premium, and pro packages allow you to create one app. If you upgrade to the agency package, you will be able to create 10 apps. 
Progressive web apps (PWAs) are a type of web application that can be accessed via web browsers and installed on iOS and Android devices. This type of web app has grown in popularity as they provide a simple user experience and can be used without an internet connection. You can read more about PWAs from here. 
Can I use a previous domain? 
Yes, you can connect your app with your existing domain and users will easily access your app using this custom domain. 
What company information can I add? 
You can create a business info page and add your business phone number, office address, social media platforms, and much more. 
Summary 
Whether you're an agency or a small business owner, you need an efficient app builder to meet the demands of today's customers. Both Mobilzer and Shoutem provide competitive solutions for businesses. However, you will find Mobilzer more flexible when it comes to creating a variety of apps for multiple industries. It's also the best way to create native apps with a limited budget. If you're looking to try Mobilzer, we offer a 14-day free trial to help you understand how the app works.